March 11, 2016. The Big5 Saudi exhibition was held in Jeddah, Saudi Arabia. It is the Kingdom's largest and fastest growing building and construction show. Hi-Target as a Chinese leading and professional provider of high-precision geographic instrument and solutions attended this exhibition from 7th-10th, March.
Over 15,000 constructional professionals attended the fair to see what the advanced equipment and future developing trend is in the booming construction industry. Hi-Target latest surveying equipment, including V100, V90 Plus GNSS RTK system, and ZTS-360R Total Station, were showed up to attract thousands of visitors during these 3 days.
V100, the miniaturized GNSS RTK system is the "Super Star "on Hi-Target booth. It features with most compact design, light weight and Android controller, which attract lots of surveyor, construction companies and governmental professionals to experience its smart functions.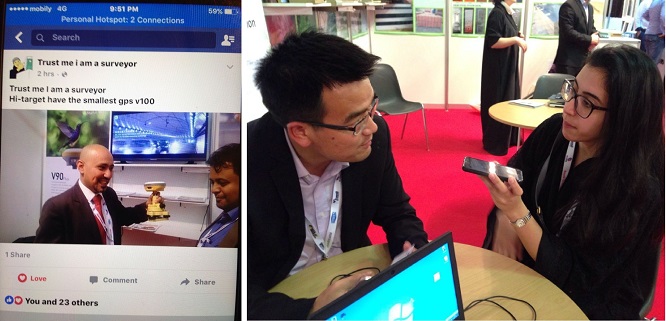 Finally, as the representative of Chinese exhibitors, Hi-Target was honor to be invited by Media Zone Authority, UAE to give a brief interview of Hi-Target company introduction and the marketing strategy in the whole Middle-East regions in 2016.